Light out of Darkness – Radio Edit by Julience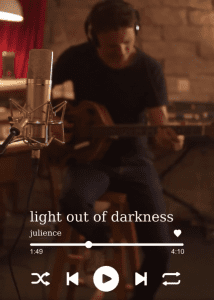 For fans of high-energy dance tracks, Julience's "Light out of Darkness – Radio Edit" is an electrifying force to be reckoned with. With a pulse-pounding tempo of 155 BPM and a driving B-minor key, this song grabs you by the ears and doesn't let go. Despite having a very low level of acoustic instrumentation, the song's ear-splitting energy will leave you feeling invigorated and ready to dance the night away. You'll be carried along by the insistent beat and infectious melody, transported out of your everyday life and into a world of pure sonic ecstasy.
But there's something deeper at play in this song. Julience's "Light out of Darkness" is not just a club anthem; it's a powerful expression of the human experience. With its 3-time signature and driving, relentless rhythm, the song reflects the ups and downs of life, the moments when we feel lost in the darkness and the times when we emerge into the light. It's a message of hope and resilience, of refusing to give up when life throws obstacles in our path. And with its soaring, uplifting chorus, this track delivers that message in a way that's impossible to ignore.
Whether you're a seasoned dancefloor veteran or just looking for a song to lift your spirits, Julience's "Light out of Darkness – Radio Edit" deserves a place on your playlist. With its heart-stopping energy and powerful message, it's a track that's sure to get your blood pumping and your feet moving. Don't miss out on this undeniable hit!
Read the interview with WhatsMusic.de – Julience's new single marks a turning point after moving to Manchester from the Netherlands
—————————————————-
Are you an music artist looking to share your unique sound with the world? Do you want to showcase your talent and create a buzz around your tracks? Look no further! WhatsMusic.de can provide you with a professional and engaging song review just like this one for your very own tracks.
Our reviews will captivate and engage your audience, highlighting the best features of your music and capturing the essence of your sound. Whether you are a seasoned artist or just starting, we will work with you to create a review that truly represents your unique sound and style.
Don't wait any longer!
 and let us help you take your music to the next level. With our expert reviews, you'll be sure to captivate your audience and leave a lasting impression.