Oxytocin I – MOHSEN TABATABAEI (Official Video)
For those who crave a sensory escape, Mohsen Tabatabaei's "Oxytocin I" is a gem of a song that will take you on an evocative journey. This song is a great example of how a piece of music can combine a captivating melody with poignant lyrics and stellar production to create an immersive sonic experience.
"Oxytocin I" is a beautifully crafted piece of music with a dark, yet inviting atmosphere. The song is in C#/Db-minor key and has a tempo of 156 BPM with a 4/4 time signature. The composition sets a sultry tone with its hypnotic synth bassline and pulsing drums. The song's opening is enigmatic, with an ethereal female voice that weaves around the instrumental. It creates a sense of space and timelessness that feels almost otherworldly.
The production of the song is fantastic. The sound is dense, yet it is carefully layered to give a sense of intimacy. The vocals are perfectly integrated into the track, and the use of vocal harmony is particularly noteworthy. The arrangement is masterful in its pacing, with each section of the song subtly flowing into the next.
The lyrics of "Oxytocin I" are poetic and dreamlike. They touch on themes of longing and desire, expressed through imagery that feels both familiar and fantastical. Tabatabaei's voice has a haunting quality, and the way he delivers the lyrics adds to the song's hypnotic quality. The lyrics take the listener on a journey into a world of passion and intimacy, and the song's title itself, "Oxytocin I," alludes to the chemical responsible for the feeling of bonding.
Overall, "Oxytocin I" by Mohsen Tabatabaei is a mesmerizing piece of music that showcases the beauty and power of sound. The intended audience for this song could be anyone who enjoys music with depth and complexity. It is a great choice for those who appreciate electronic music with a darker edge, and for those who appreciate poetic lyrics that leave a lasting impression. With its enigmatic atmosphere and captivating sound, "Oxytocin I" is a song that will linger in your mind long after the last note has faded.
About Mohsen Tabatabaei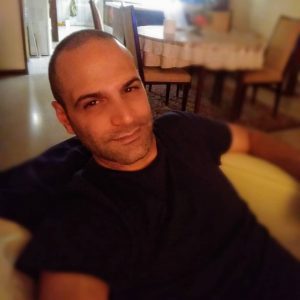 Mohsen Tabatabaei is an Indipendent Artist as Singer, Composer, Music arranger , Sound Engineer 7 Film maker who born in 1984 .He, who graduated from architectural engineering and sound engineering, got acquainted with the world of music from the age of 4 by recording sounds for cassettes and playing the synthesizer at the age of 6….
Read the Interview with WhatsdMusic.de