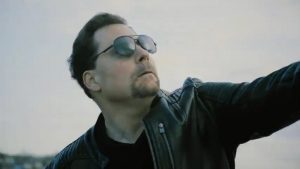 New Jersey rocker Chris Luciani, founder, and leader of the hard rock band LUCIDITY, and his label Precision Records have formally announced the release of a brand new solo side-project for the artist. ANOTHER WORLD is the eponymous debut single from his solo album of the same name. An inquisitive composition that not only externally asks the age-old question of, "Is there really anyone out there?" but also the self-doubting inner conundrum of, "Is there really anyone in here?" Some of the conclusions Luciani arrives at are sure to unsettle quite a few who hear this song.
ANOTHER WORLD is a guitar-driven foray into the world of hard rock music. Chris works with a flesh and blood ensemble of live musicians who come together to help him forge molten lyrics and metal riffs together to allow the artist to get the heavy edge into the track and take it into the realm of mainstream active rock.
New Jersey rocker Chris Luciani is an artist who lives by "diligence is the mother of good luck". The result is an inspired rock vocalist whose persistence and dedication are offering up a new musical world!
While Chris reveres the rock greats, he also pulls the spirit of personal motivation. "I have discovered that lyrics and composing flow out differently when I am frustrated than when I am happy", says Chris. "It is interesting psychology to see the opportunity that comes from challenge." If the adage that we 'make our own luck' holds true, then lucky Chris Luciani is an inspiration to us all for what the love of music can achieve.