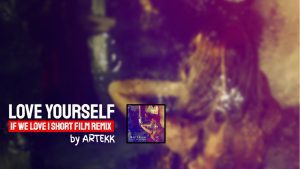 Music And The Short Film
The short film Remix by ARTEKK shows how important music is for the emotional impact of a film. The short film "If We Love" tells the story of a young woman who has made the decision to commit suicide. A stranger notices the young woman's situation and tries to dissuade her with compliments and kind words. Creating a basic film score for a short film, ARTEKK has succeeded brilliantly with the new song "Love Yourself". There are many reasons and causes why many people need to learn self-love. People who do not love themselves depend on the affection and love from the outside, which makes them unhappy in the long run. Such a thing is always the case when the desire for affection and the longing for love are not fulfilled. Then it can also come, as is shown in the short film, that people feel worthless and their own death appears to them as the only way out.
With the song "Love Yourself" ARTEKK wants to spread the message that self-love is important. Because those who get along well with themselves also radiate that to other people. Authenticity and loving yourself are very closely connected. Self-love means no one has to pretend anymore to please others, they are perceived as a positive person by themselves.
ARTEKK is making music that is driven by a desire to motivate, inspire, comfort and spread love and joy to all those that hear it.
His sound is unique as fusion of Pop, DnB, Electronic Dance and IDM with beautiful piano and synthesizer melodies, sweet vocals, mixed on a high tempo, uplifting and catchy and at the same time creating a chill and ethereal atmosphere that exhibits inspirational and powerful. He wants to encourage people to live their lifes with love and compassion.